Terrie and I just dropped Celeste off at the airport in Milan where she will be flying home via Heathrow to SEATAC then PDX. We had a great time with her.
We are now on our way to Venice (Venizia, Italia)! Terrie just mentioned we were heading into a high-risk area for me. :-/ You know water and I don't mix well. A gondola ride is a highly risky venture with my "Forest Gump-ness" around water. ;-)
More to follow on Venice. Also, I'll backfill on Milan and Cinque Terre as soon as I get the chance.
For now, we're heading down the Autostrade towards Venice at 130Kph+!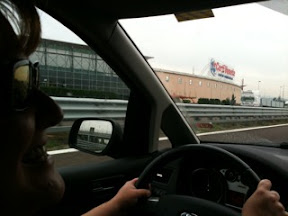 Ciao for now!
- Posted using BlogPress from my iPhone