So, I'm sure some of you knew this already, but Terrie surprised me for our 18th anniversary by taking me to the famous
Sonora Resort
in British Columbia, CA.
In case you're wondering where it's at, it's a 45 minute helicopter flight up the Inside Passage, North West of Vancouver, B.C., Canada.
NOTE: For all images, click them to see larger versions.
In the below map of the Inside Passage and Vancouver Island, see the blue dot in the upper left corner - this is where the
Sonora Resort
is located.
As I said, we took a helicopter flight up to the resort. The flight was out of Vancouver right next to the International Airport. This was my 1st time ever on a helicopter! For you aviation types, it was an
Agusta Westland AW-139
helo. Here we are (below) watching our fellow passengers board.
Of course, the weather turned out to be great which made the views spectacular!
The resort is quite stunning as well...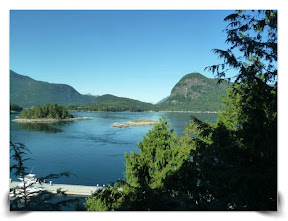 ...and the room is very, very nice (apologies for my corniness)!
We're told we could see bears on the property too!!
Stay tuned! More to follow!
- Posted using BlogPress from my iPad
Location:Sonora Resort, Surge Narrows, British Columbia, Canada