Mom, Dad, Terrie and I just got back from Wine tasting and Dinner in Dundee, OR. The winery we wanted to taste at was the
Argyle Winery
- which has a wonderful
Champagne called Argyle Brut
(our favorite).
After wine, cheese, and crackers, we went across the street and ate dinner at The Dundee Bistro where Terrie and I shared a wonderful hummus...
...Mom had a bun-less Burger and Fries, Terrie had the Fish...
...and Dad and I each had the Pulled Pork Hoagie (Yum!).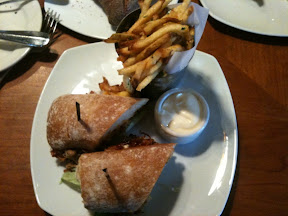 And poor Dixie didn't get to come...but she did get leftovers (lucky dog)!
- Posted using BlogPress from my iPhone
Location:Dundee,United States